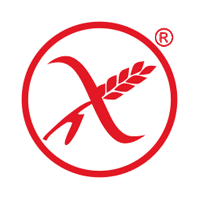 The Crossed Grain - AIC (Associazione Italiana Celiachia)
The Crossed Grain logo is a trademark registered by the Italian Coeliac Association (Associazione Italiana Celiachia). It is granted exclusively to companies which overtake rigorous procedures of control on their production processes and their end products. Products that bear this logo are suitable for coeliac consumers. The gluten content is less than 20ppm (20 mg/kg)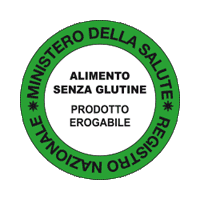 Gluten-Free - Italian Ministry of Health
IThe "Gluten-Free" symbol is a trademark registered by the Italian Ministry of Health and it guarantees that the product can be given to people who have certain nutritional requirements or diets, and eligible for reimbursement (as per article 7 of Italian Ministerial Decree of 8 June 2011).
Organic Agriculture - EC (European Commission)
The Organic Agriculture logo by the European Commission gives consumers confidence about the origin and quality of the food or drink. The presence of the logo on products guarantees compliance with EU regulations on organic agriculture. Since July 2010, every organic food product pre-packed in the European Union has to carry the EU's Organic Agriculture logo.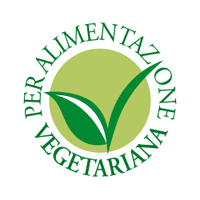 Vegetarian Food
The logo is used by Dialcos to mark products that are free from any animal ingredients (meat, poultry, fish or their derivatives including eggs) and therefore suitable for vegetarians. The use of ingredients derived from milk and milk products are, however, allowed (lactose, sodium caseinate).
Vegan
he Vegan logo is a trademark certified by the Vegan Society. This is granted to products that do not contain any animal ingredient or vegetable ingredients.Kosher
Kosher
The Kosher symbol is issued by special rabbinical associations to products that overtake rigorous qualitative and production standards and that conform to the regulations of kashrut.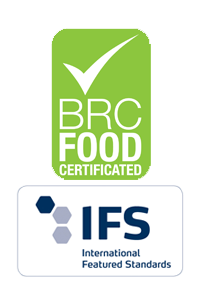 BRC/IFS
BRC (British Retail Consortium) e IFS (Internetional Food Standard) sono due fondamentali standard, a livello internazionale, per la certificazione di qualità nella filiera di fornitura di prodotti alla Grande Distribuzione Organizzata. Il BRC si basa su standard di qualità che interessano l'HACCP, l'ambiente di lavoro e i controlli sul prodotto e processo. Lo standard IFS, invece, è uno standard internazionale condiviso dalle filiere della GDO agroalimentare francese e tedesca. Con esso, si richiedono ai fornitori della filiera il rispetto di alcune norme igieniche e di buone prassi nei processi, valide a garantire un buon livello di sicurezza e di qualità.